No quiero oír eso.
"I have to go back to Austin."
That's what you don't want to hear from your husband the very same day you arrive in a foreign country with your small children.  But that is, in fact, what he said when he got off the phone with his boss that night.
But don't worry: he has already gone to Texas, and returned to Spain safely.  So now I can write about it without worrying the grandparents unnecessarily.
You're welcome.
Yes, they needed him in person for an important meeting.  This hardly ever happens… like never.  So the timing was just laughably ridiculously bizarre.  Regardless, it seemed that we would arrive in Granada, then a week later he would fly back to Austin for four or five days (four for us, five for him).
So, with that knowledge, we spent our first night in Spain sleeping like the dead, or the tortured, and woke up an hour after we were supposed to check out when our AirBnB host called to ask us where we were.
Mad panic.
Rob threw on some clothes, grabbed a suitcase, and ran to the apartment.  Violet, who sleeps in her clothes so as to always be prepared, went with him.  Graham and I frantically dressed, threw everything into the remaining four suitcases and dragged everything to the lobby to check out.
That day was a blur: hefting our luggage up four flights of stairs, searching for groceries, trying to book a flight for Rob, trying to exchange money, trying to understand how to order food.  The kids may have completely given up on this whole endeavor if we hadn't stumbled upon a cat café.  That is to say, a cafe in which you can hang out with a bunch of cats.  (Dining upon cats is not a thing here.)
We spent at least an hour there and found out from one of the employees (volunteers?) that after a family lives for three generations in Madrid, they are called Gatos.  Así, gatos son muy importante allí.  And if that is true, the kids are all in.
At least, until our A/C broke.  Now, generally we could get by with an inconvenience like that.  I don't want to sound like a soft, pampered American tourist.  But to be fair, it was over 100 degrees (38 degrees Celcius… I'm trying to teach myself the conversions) and we were in an attic apartment, so it was actually much hotter than that when we were trying to sleep that night.  Let's just say that "trying" was about all we could do.  The kids did manage to catch a few winks, but Rob and I were a mess.
The next day we could barely hold it together long enough to get to a money exchange shop (the previous day's attempt was a failure).  Then we crept into an air-conditioned book store and curled up on the floor in the English section to read until we could muster enough strength for a plan.  Our most brilliant idea of the day was to shell out for the double decker tour bus, allowing us to simply sit in a daze for hours, watching the city roll by and listening to the recorded kids' tour channel narrated by El Gato de Madrid.  
We could hop on and off at will, which we did when I spotted a Starbucks.  (Hey, don't judge me.  I needed comfort coffee.)
At some point we met with our AirBnb host to see about fixing the A/C.  She tried her best, but it was very difficult to find repairmen in the middle of a heat wave, which was in the middle of the month when most Spaniards are on holiday.  And when they finally did arrive, the news was not good.  It couldn't be repaired that day.
She brought us a fan.
I seem to recall we went to a museum that afternoon.  
And there was a Summer Festival in our neighborhood.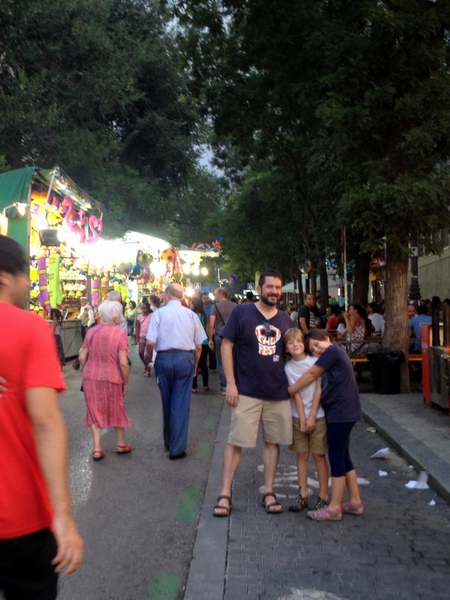 We also managed to buy bus tickets to Granada at some point.  And we managed to eat.  Like I said, a blur.
That night we dragged the mattress from the bedroom into the cooler living room, turned on the fan, and tried to sleep.
Tried.
The next morning we woke up early, lugged our 5 suitcases, 4 carry-ons, 2 handbags and 1 mandolin down four flights of stairs, through post-fiesta-garbage-strewn cobblestone streets and found taxis to take us to the bus station.  Two taxis, of course.
Adios Madrid.  Vamos a Granada, finalmente.
Well… not finalmente for Rob.