caza feliz: día diecisiete — las luces
I really did have to literally hunt for this feliz.  We looked all over Granada for Christmas lights that don't blink.  The rest of the family didn't care much, but I know I'll have some kind of seizure if my Christmas tree is flashing.
Finally, when I had almost given up hope, we found a dusty box in a little "everything" store downtown.  Just one.  The friendly owners told us that in Spain, everyone likes as much sparkle as possible.  I explained that I like a calm and relaxing atmosphere at home.  They nodded pityingly and sold me their last box of non-blinking lights.
At home, I eagerly opened it.
Twenty tiny lights.
I know there is an enormous language barrier, but I'm almost positive that guy said 2 meters.  How does that mean 20 lights.  What the…?
Soooo… at this point you can only do one thing: run the 20 lights up the trunk and direct the children to hang the shiniest ornaments near them.
Then drink wine.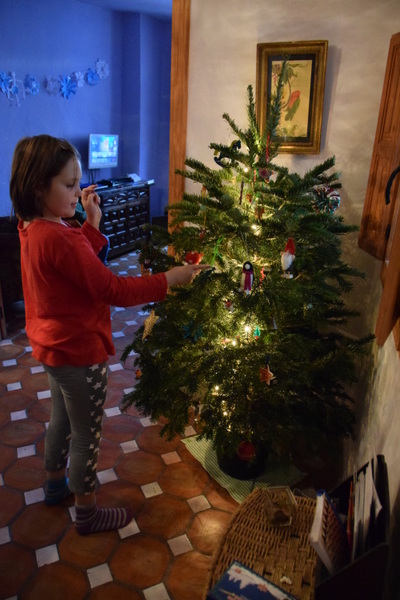 Because you can't find eggnog.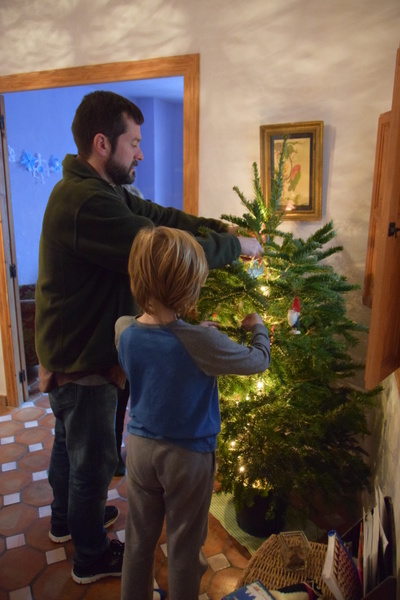 No seizures.  Happy kids.  Perfect.