feliz friday – amigos y vecinos
Minor miracles going on around here.  Yesterday the clerk at the grocery store asked me my name.  So what, you say?  Well, this is the same mujer who, last fall, screamed at me because I didn't understand when she asked whether I would like to use a PIN code or signature with my credit card, leading to one of my many tearfully walks home to hide.
Now, after almost a year of shopping there several times a week, I realized that she is just really loud and demonstrative (as is Spain in general and Andalusia in particular).  I've hear her scream at everyone in the neighborhood: friends, co-workers, family and friends alike.  It means she's happy.  And now I call her Pepa.
Also?  Our neighbor next door is nice.  So what, you say?  Well, for over six months I've been trying to talk to her and wave to her and chat with her on the street.  We've left snacks and gifts on her steps.  She just ignored me.  Purposely and angrily, I thought.  So I assumed she hated living next door to a guiri.  It turns out, she just had a baby and a toddler.  Ah ha.  When I had a baby and toddler I had no idea what was going on around me and surely looked distracted and grouchy most of the time.
Now her baby is a toddler and her toddler is a pre-schooler.  She's awake again and we've been invited to a garden party, hung out with her kids and new kitten, chatted in the street, and been fed.  She recently showed up at our door with a bag of spanish broad beans from her garden, ham, onion, and instructions to make the traditional habas con jamón.  The kids and I spent a lovely afternoon shelling beans and listening to Taylor Swift.  (I think that's why they actually ate dinner that night.)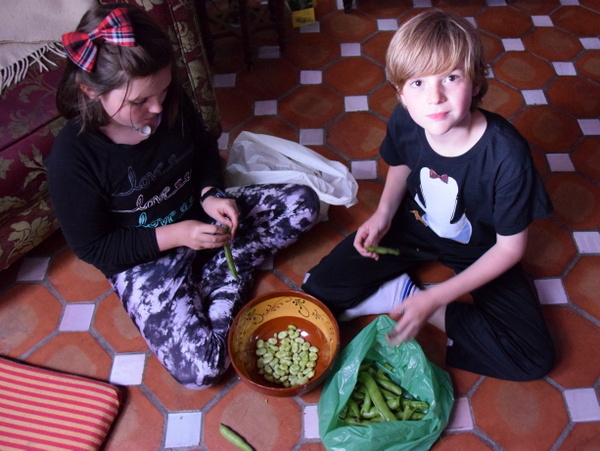 Also?  Graham has finally, finally been invited to a neighbor kid's house to play.  This is a victory on many levels that I won't go into right now.  Let's just say I'm feeling feliz this Friday.
How about you?  What are you feeling feliz about?